sedcat (South East Dorset Community Accessible Transport) is a charity dedicated to meeting the transport needs of vulnerable local people to prevent social isolation and loneliness. It is our mission to operate safe, affordable and accessible community transport services across Bournemouth, Christchurch, Poole and East Dorset. Through this we promote social inclusion, independence and a sense of community.
Our Vision: "To ensure that safe, affordable and fully accessible transport is available to everyone in Bournemouth and surrounding areas who need, qualify and will benefit from it."
Why are we here?
For many people, using public transport can be difficult, if not impossible, especially for our more vulnerable community members. sedcat provides transport services for local people who have special needs or are at risk of being socially excluded from society. This may be because of age, sickness or disability (mental or physical), or poverty, people with young children, or those living in isolated areas where there are no adequate public transport facilities.

Using minibuses, we take people from their homes to shopping areas and on outings. A community car scheme using volunteer drivers helps people get to appointments and a Shopmobility scheme hires out scooters, powered and manual wheelchairs.

If you are unable to access regular passenger transport because of your age, sickness, disability or social exclusion, you may qualify for our services. Contact us to find out how we may be able to help by following this link:>>
Who we are
Our Mission: "To operate affordable accessible transport services in the local area and through this, promote social inclusion, independence and a sense of community"


"To raise awareness of the need for accessible transport and in doing so, help overcome social and geographic exclusion by working in partnership with the local community, commissioners and statutory organisations"
sedcat is a charitable company limited by guarantee with full charitable status with the Charity Commission.
Our overall aims to achieve our vision and mission are to:

• Provide affordable fully accessible transport in Bournemouth and surrounding areas

• Regularly review the local demand for accessible transport and where possible operate and support services to meet it

• Take a strategic lead to further the development and provision of accessible transport services in the local area

• Act as a voice on behalf of local service users, community groups and voluntary and charitable organisations requiring accessible transport.
See what our passengers are saying about our service by following this link>>
Our Trustees:
Hazel Walker (Chair)
Caroline King
Philip Tarrant
Mike Wood
Vivienne Aird
Rodney Darrington
Our Chief Operating Officer:
sedcat is dedicated to providing accessible and affordable community transport for vulnerable people across Bournemouth and surrounding areas.
Your guide – How sedcat is making a difference
Download and view our guide to how we make a difference. Follow this link to download or click on the image below>>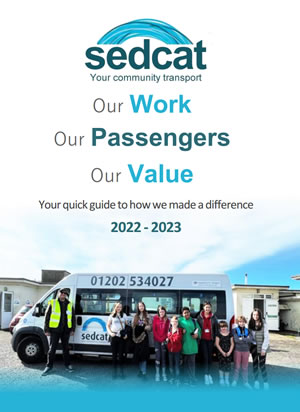 Our Newsletters
You can download our latest newsletters by following this link>>